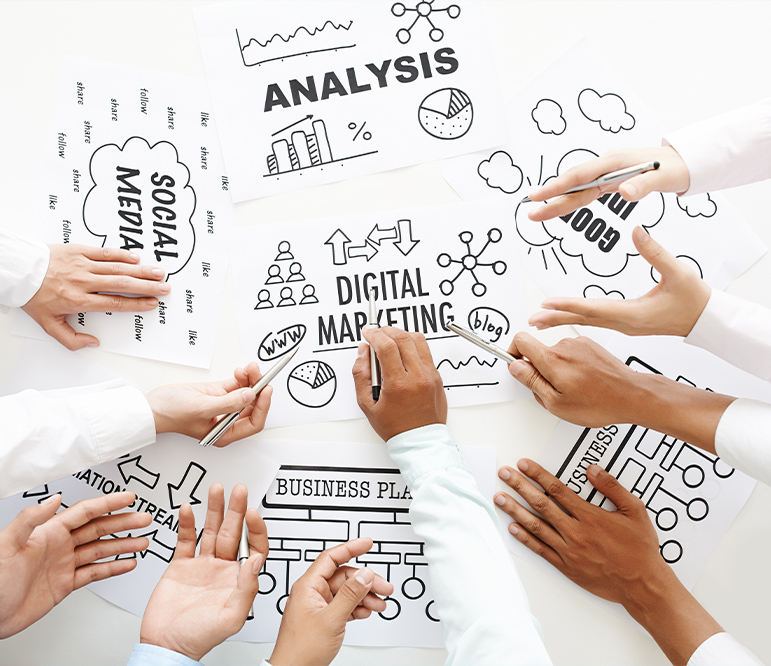 Digital Marketing
Black Cap Media is a new generation digital agency that aims to make its clients leave their competitors in the dust in the digital world and reach more potential customers with its performance-oriented and expert team.
Black Cap Media identifies needs and comprehends business dynamics of its clients deeply, produces creative, fully customized and brand-specific solutions starting with detailed business sector analysis.
SEO
Do you have any idea about the number of people that make search on the Google every second to get the information they want? It is 2.4 million. With sustainable search engine optimization effort, we ensure that you are listed at the top of Google searches related to your industry and create strategies to increase your website traffic and customer base.
Ad Management
Social media is not just about sharing. You have to create interaction with creative content suitable for your brand language. The dynamic power of social media and the advertising strategies created to reflect your brand in the best way possible will always be be with you.
Google Ads
The advertising budget is an investment, not a cost. You can get ahead of your competitors and make a difference in your industry with Google Ads that will help you find potential customers by generating more traffic for your website and app.
Content Marketing
Content is the most and rapidly consumed information in the digital world. Any kind of content including text, images, videos, audios presented on your website, app or social media accounts should attract attention and reflect you correctly. You will always be one step ahead with the successful content planning service that we offer.
Digital Analytics
You can't manage what you can't measure. We analyze the return of all your digital activities and investments, the behavioral patterns and characteristics of the users, the performance of your website and mobile applications. And eventually with the use of these information, we create the most appropriate optimization plan for your business.
Production
In Black Cap Media, we provide full production services for your corporate promotional films that will enable you to reach your target audience in the most accurate way by conducting a detailed study about your company in line with the brief given in order to enable companies to stand out on digital media for promotion in markets where competition is increasing.
Promotional Film
Commercial Film
Cinema
Photo Shoot
Video Clip
Video Edit
Drone Shooting
2D Animation
Click the link for our references
Burak Pehlivan